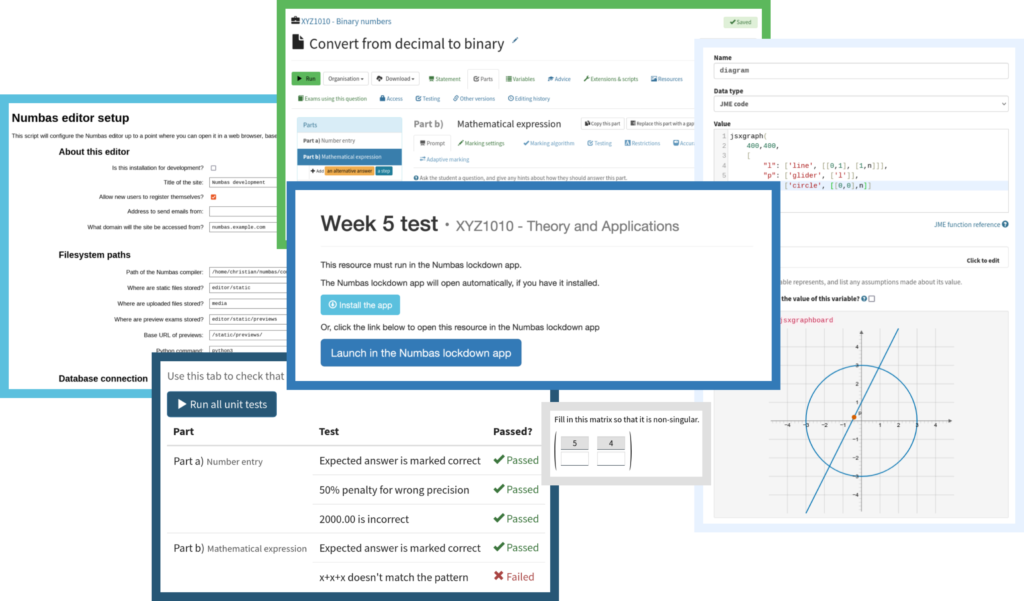 It's been a while since our last development update. The reason for that is that we've been working on some big changes to every bit of the Numbas software. We've released v7 of the Numbas app and editor, and a new lockdown app to integrate with the LTI provider which ensures that students can only access assessments in a restricted environment. There's also a Safe Exam Browser integration, for in-person invigilated exams.
Laura Midgley has joined the team, replacing George Stagg, who left for an exciting job with RStudio.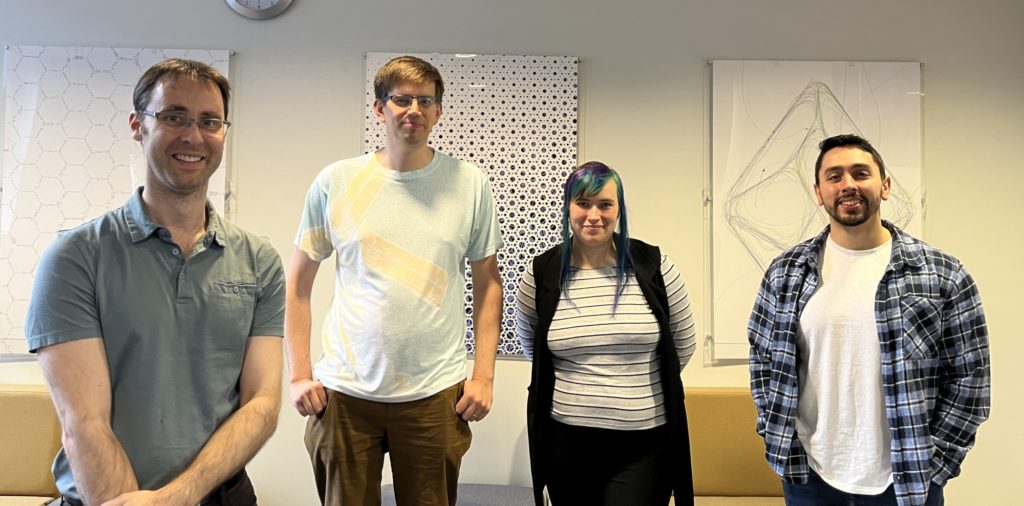 Numbas runtime
Unit tests for the exam runtime
This won't affect most Numbas users directly, but I'm mentioning it here to reassure you that we're taking efforts to make sure new changes don't break things!
There are now some automatic unit tests checking the functionality of exams. Previously there were only unit tests covering the JME language.
I've set up continuous integration, so that the tests are run automatically each time we commit a change to the runtime's GitHub repository, and we're alerted if any of the tests fail. It's already helped me catch a few breaking changes!
A testing regime is only as good as the tests it carries out, so this will grow to be more useful over time, as we add tests to cover more aspects of the code.
Conflicts between question variables and marking parameters
When a question variable has the same name as a parameter to a part marking algorithm, an error is now thrown.
This has broken some existing questions. The reason for the change is that when an error was not thrown, affected questions could end up marking answers incorrectly because the question variable overrode the marking parameter, or vice versa.
There isn't a solution to this that doesn't break something: either we ignore the values of question variables, or we rename marking algorithm variables, with either way potentially breaking custom algorithms that already use them.
In retrospect, I should have made question variables only available through a dictionary, so there can't be a conflict. Too late now!
If you encounter this error, the solution is to rename the conflicting question variables.
Other changes
Enhancements
Thanks to Chris Theron for translating the interface text into Afrikaans!
You can set an adaptive marking variable replacement for a gap-fill, and it applies to all of the gaps. (issue from 2016!)
There is an option in the matrix entry part to pre-fill some cells. (issue from 2015!)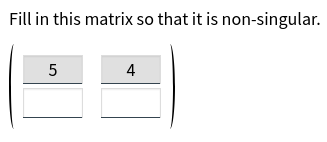 Other changes
Bug fixes
Numbas editor
New layout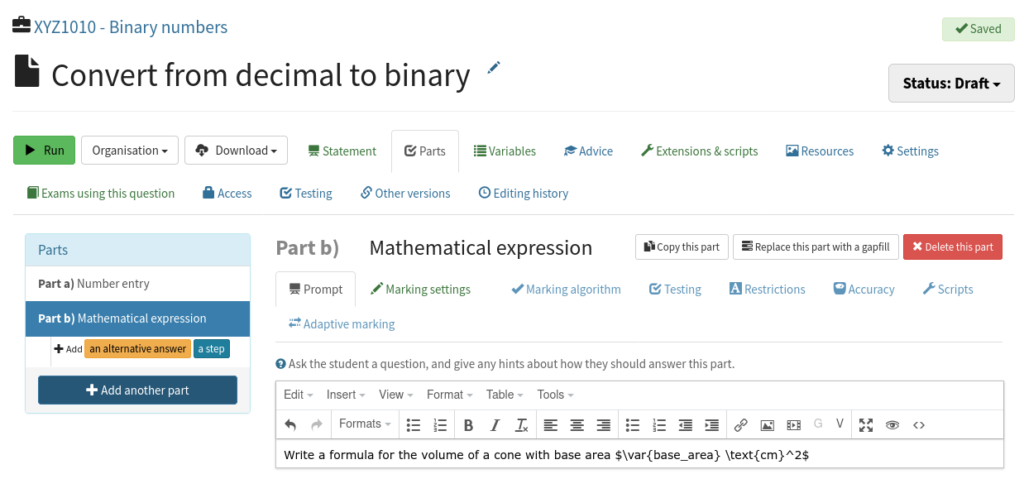 In the exam, question and custom part type editors, the tab navigation runs horizontally at the top of the page, leaving more width for the main editor.
When adding a part, the available part types are shown in a vertical list along with descriptions, instead of as small buttons in a single line.
The tree of parts has been rearranged, with the aim of reducing clutter and making it easier to read.
The part's marking algorithm and the area to test answers and run unit tests are now in separate tabs.
In the question editor, only one function's definition is shown at a time, like the variable editor.
When you're editing a variable, its full value is displayed under the definition. When the variable represents an interactive element, you can interact with the element. This will help when using long lists or dictionaries, and while creating randomised diagrams.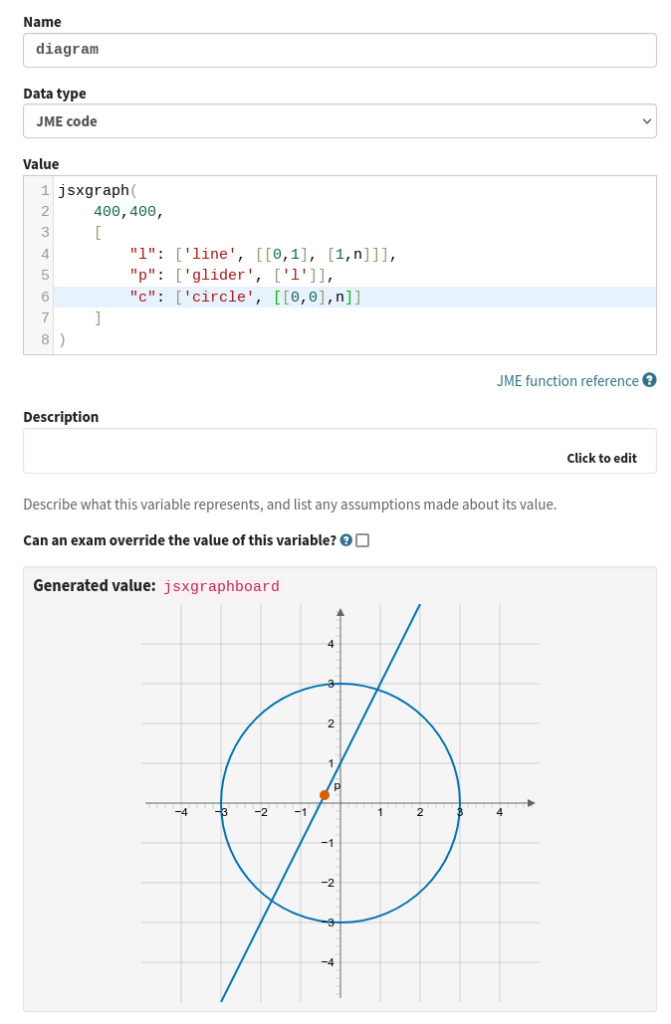 The "Variable testing" tab in the question editor is now accessed from the bottom of the list of parts, instead of being a separate tab on its own.
The editor for custom functions now only shows one function at a time, similar to the variables editor.
The code editor for theme and extension files now occupies the entire viewport, so there aren't two competing vertical scrollbars.
Web-based first setup
Laura's first job was to convert the command-line first_setup.py script used to set up an instance of the Numbas editor to a web-based form.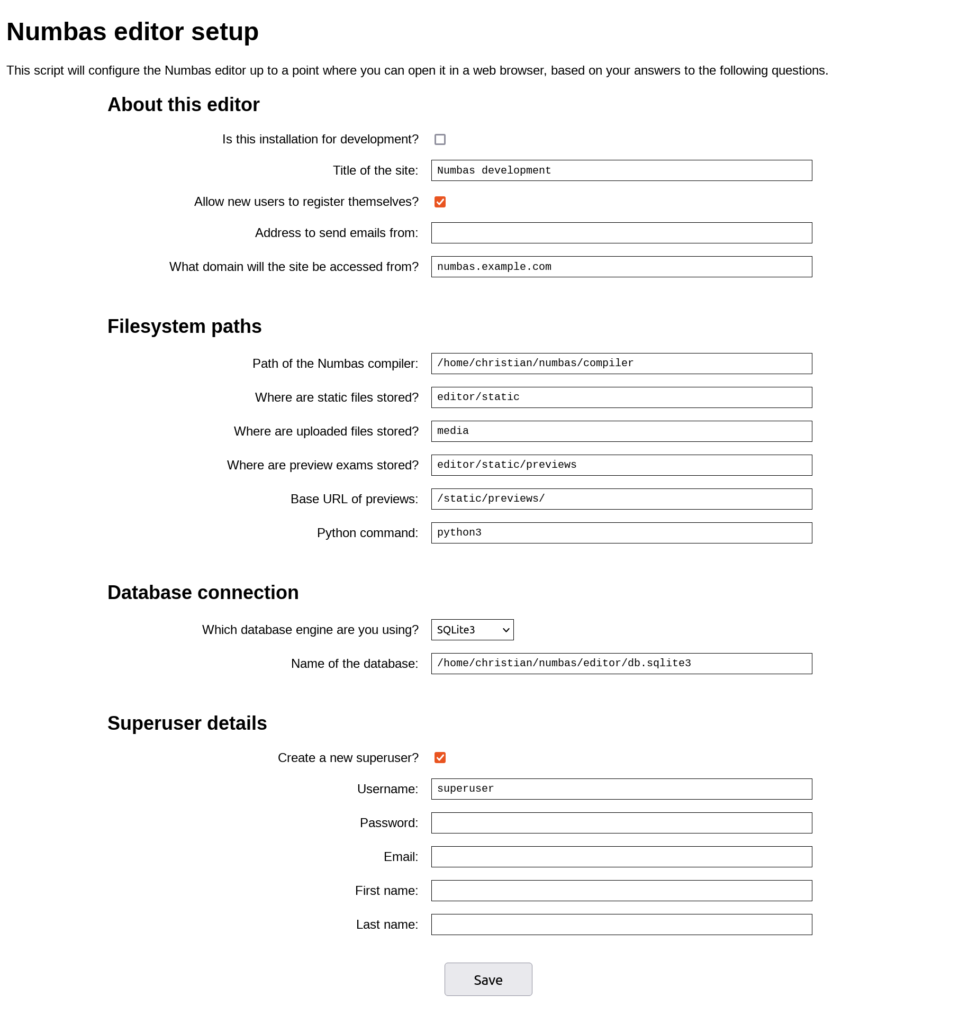 It looks good!
As a little bonus, instead of using a progress bar while you wait for the installation to finish, I made it show you the factorisation of the elapsed time:
Hopefully this will make it easier for other people to join in with Numbas development.
Easier question testing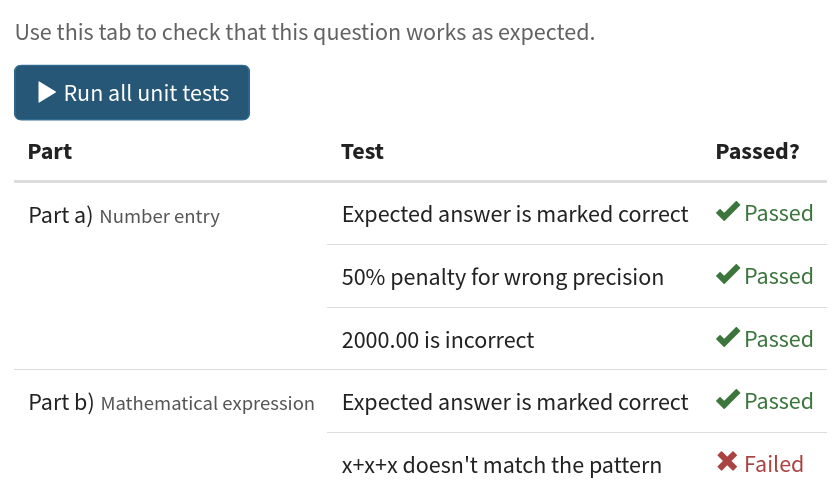 There is now a top-level Testing tab in the question editor, showing all unit tests associated with the question's parts, and a button to run them all at once.
Additionally, each part now automatically gets a unit test checking that the expected answer is marked as correct. (issue)
This should make it much easier to check that questions do what they should.
Other changes
Enhancements
Other changes
Bug fixes
Extensions
Programming
Updated Pyodide to v0.21.0.
In Python, added a matplotlib_preamble pre-submit task to clear any output of matplotlib from previous runs. (issue)
There's an option to turn off variable substitution in the "expected answer" field of the Code part type, so you can easily use curly braces in code.
The webR runner queues all blocks of code at once, so that .Last.value works as you'd expect. (issue)
Errors thrown while executing the postamble are shown in the part feedback. (issue)
The code editor widget has a minimum height. (code)
The webR runner removes ANSI escapes from the output, and carriage return characters from code to run. (code)
Random person
Jesse Hoobergs wrote a new compression scheme, reducing the size of the extension. (pull request)
Numbas LTI provider
Numbas lockdown app and Safe Exam Browser
One of Numbas's main strengths, the entirely client-side exam runtime, is also a weakness when you're carrying out summative assessments: if the student runs an exam in a normal web browser, they can use the browser's developer tools to inspect the code and see expected answers, or manipulate their score.
The solution to this is to require students to use a specific locked-down browser app which doesn't allow access to the underlying code.
For several years, we have used a locked-down browser app to deliver summative Numbas assessments to our students. This app was hard-coded only to work with a Moodle server we set up for the purpose, so we couldn't share it with other institutions.
Over the last year, we've been working on a new Numbas lockdown app which integrates with the LTI provider, so it can be used anywhere.
The Numbas lockdown app will launch automatically when a student launches a Numbas LTI resource which requires it. The app presents a minimal browser interface, and launches straight into the Numbas exam after the student enters a password to decrypt the launch settings.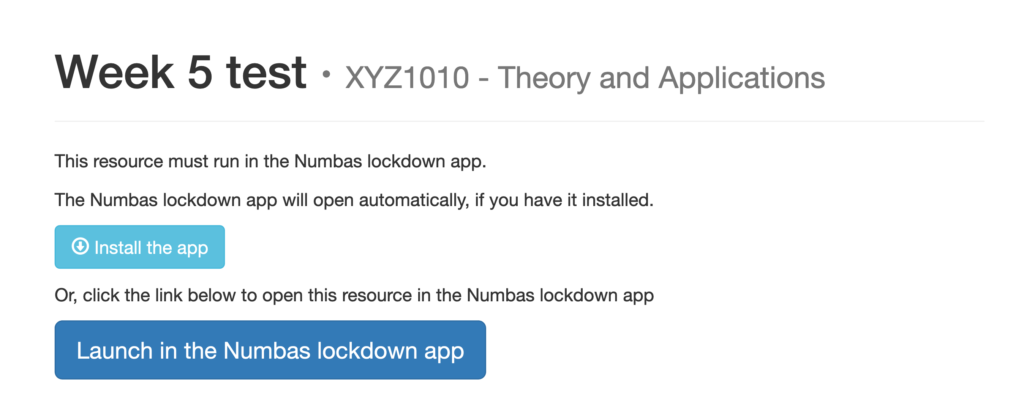 The app doesn't need any configuration on the server apart from a default password, which can be overridden. We recommend that it is used for any summative assessment contributing to course credit.
At Newcastle University, we have a policy of using another locked-down browser app, Safe Exam Browser, for in-person invigilated exams. Safe Exam Browser doesn't run on as many platforms as the Numbas app, but does completely control the computer interface, so students can't use other programs while completing an exam.
We've also added support for Safe Exam Browser to the Numbas LTI provider. A server admin has to create a settings file using the SEB config tool and upload it to the Numbas LTI provider, and then any instructor can require SEB when students launch a particular resource.
Other changes