Here's another round-up of the development work on Numbas in the past month-and-a-bit.
A little attribution
I've added a small attribution footer to the bottom of the default theme. It looks like this:

Now that people can upload their own themes, we wanted an unobtrusive way of noting that tests are built using Numbas. If you don't want it there, you can use a modified theme to remove it, but we'd prefer you kept it.
Better error messages
I've spent some time looking at the ways Numbas tests can fail, with the aim of giving better information about what's gone wrong. The biggest change is that errors encountered while the exam is loading now show a more helpful screen than the old pop-up message:

And if you click on the error message, you get a JavaScript stack trace: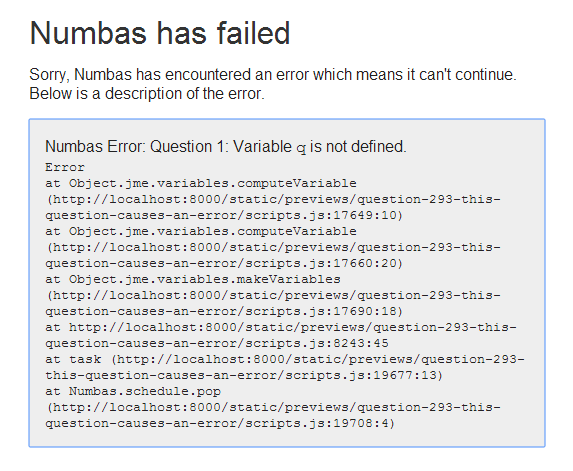 I've worked on making the messages themselves more helpful, as well. Errors caused by a particular question will tell you which question they came from, so it's easier to work out where to look. Numbas now catches a lot more errors encountered while resuming SCORM sessions – missing or mismatched data will cause an immediate error, instead of being ignored until it causes something else to fail. A common error is caused by variables not being defined – instead of cryptic messages like "no definition of '+' of right type found" when one of the operands is an undefined variable, the error now says "Variable <name> not defined".
Faster question search
The search page in the question editor is now a lot faster. Now that we have over 4,000 questions in the public database, it was taking a long time to filter the whole question set. I've rewritten the database queries so it takes just a few milliseconds to do the same thing.
Other changes
Here are the rest of the changes made to Numbas in the last month or so: