We've made a few changes to Numbas and the editor recently, with the aim of improving usability. It involved moving some parts of the editor around, so I thought I'd better show what we've done.
First of all, when you submit an answer to a part of a Numbas question, the input changes colour depending on the score you were awarded. (If you've got score feedback turned off, it turns the same colour no matter how you did)
Here's an example:
Now, on to the editor!
We wanted to make it more obvious, for a novice question author, how to proceed through the editor to write a question.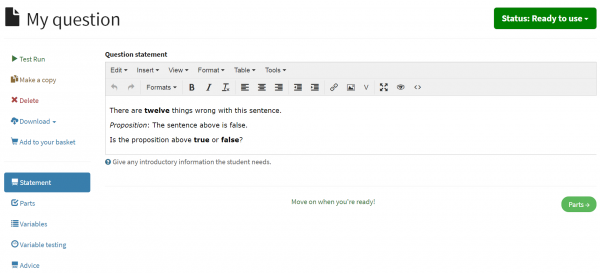 The main tabs have been re-ordered to match the order you'd expect to write things – first you write a question statement; then set up parts where the student can enter their answer; define variables used to randomise the question; and finally write a worked solution.
The "settings" tab is now further down; the intention is that you'll deal with it once you've actually written your question!
To really guide authors through the question-writing flow, the little pager at the bottom of each tab now give you some hints about what you should be doing, and then lights up the button to move to the next tab once you've done it.
The other aspect of the editor we've rearranged is the part editors.
When you first visit the "Parts" tab, you're presented with a big button to add a part. This button is now a dropdown, so you select the part type first, before the editor appears.
We wanted to make it obvious which fields you need to fill in to get a workable question, and which are extra settings you can use to refine the behaviour of the part. Now the tabs you need to look at are separated visually from the less-important tabs, and the most important fields within each tab are also separated from the rest. In the 'Marking' tab, the fields you don't have to change immediately are grouped under an "Advanced settings" header.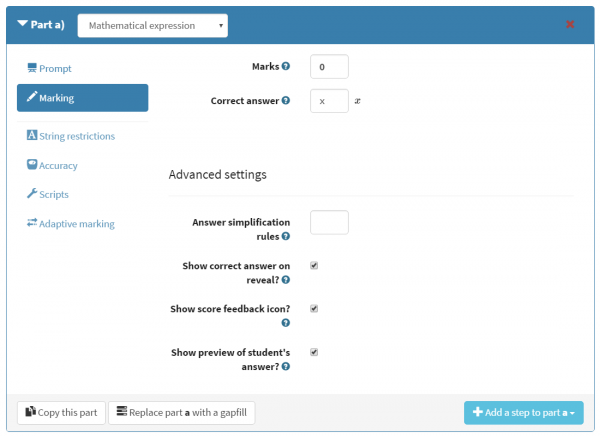 We've moved the "delete this question/exam" and "make a copy" buttons over to the left toolbar, so they're not buried in the "Settings" tab. We've also moved the feedback dropdown to the header, combining it with the existing 'stamp' which shows the current feedback status. Now, all questions and exams begin in the "draft" state, and clicking on the stamp lets you choose a feedback stamp to apply. There's also a line showing the publication status of the question/exam, as a little reminder to publish items when they're ready.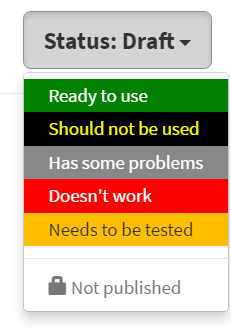 I hope that these changes increase your enjoyment of Numbas; if you have any comments or suggestions, we'd love to hear them at numbas@ncl.ac.uk.
Other recent changes
Numbas runtime
Numbas editor
TinyMCE has been upgraded to version 4.5. This fixes a few bugs, most notably the one that led to a huge blank space when you first load the editor!
You can now preview a content area, with variables substituted in and maths rendered, from within the editor.
The "copy this part" button reads 'gap'/'step' as appropriate. (issue)
There's now a "JSON data" template for variable definitions, so you can just paste JSON data in and use it straight away. (code)
When you click the "replace with a copy" button on a question in an exam, the copy is placed in the same project as the exam. (issue)
If a question is deleted while you're editing an exam which uses that question, the reference is silently removed from the exam. (issue)
LTI provider
The LTI provider is now much more robust when the connection breaks. It falls back to HTTP requests when the WebSocket breaks, saves everything to local storage so it can resume when the connection is restored, even if you close the browser in-between, and shows lots of warning messages if the connection is broken for a long time. (code)
A sensible error message is shown when you try to upload something that isn't a SCORM package. (issue)