We're continually working on Numbas, fixing bugs and adding new features. I thought that it would be a good idea to post more regularly about updates to the Numbas software, rather than waiting until each year's major version release to list everything that's changed.
I'm going to go into a bit more detail on changes than I normally would in major-release posts, to give an idea of what day-to-day development on Numbas looks like.
I'd like these posts to be monthly, but I'm about to embark on a month of paternity leave, so don't expect another one until the end of October.
So, here's what's changed since Numbas v5.0 was released in June.
Numbas runtime
General
Enhancement: The logic around the question "how long is this variable name?" has been improved greatly. This matters when you're using things like Greek letters, which take several characters to write in JME, but are displayed as a single symbol. (code)
Enhancement: The 'expand juxtapositions' logic (used to implement the implicit multiplication and composition rules) makes use of this enhanced logic to better split up long names into single-letter variables. (code)
Bugfix: The "scientific notation" number notation style no longer puts spaces between groups of digits. (code)
Interface
Enhancement: Updated the translations, adding Indonesian.
Enhancement: When you end the exam, you're now always shown the "results" screen – the "you may close this window" screen is no more. Whether you see the question score breakdown depends on the "show the results page" exam option. This means that students are now always shown the button to print a transcript of their exam, even if they don't get any feedback. (code)
Bugfix: Content areas containing only an image or an iframe no longer count as 'empty'. (code)
Marking
Enhancement: For part types that do some parsing (mathematical expression, number entry, matrix entry), the interpreted_answer note now fails if the student's answer is not valid. This matters in explore mode, or in complicated gap-fill marking algorithms. (code)
Enhancement: The "extension" part type no longer assumes you're going to write a custom marking script in JavaScript – you can write a JME marking algorithm instead. The GeoGebra extension now uses this, providing some JME functions to query a worksheet. (code)
JME
New functions
reorder and shuffle_together make it easier to take several lists and apply the same permutation to them. (issue)
replace_regex replaces all substrings that match the given regular expression with a given value.
atan2(y,x) implements the widely-used function which is equivalent to $\arctan(y/x)$, but ensures the result is in the right quadrant.
Other changes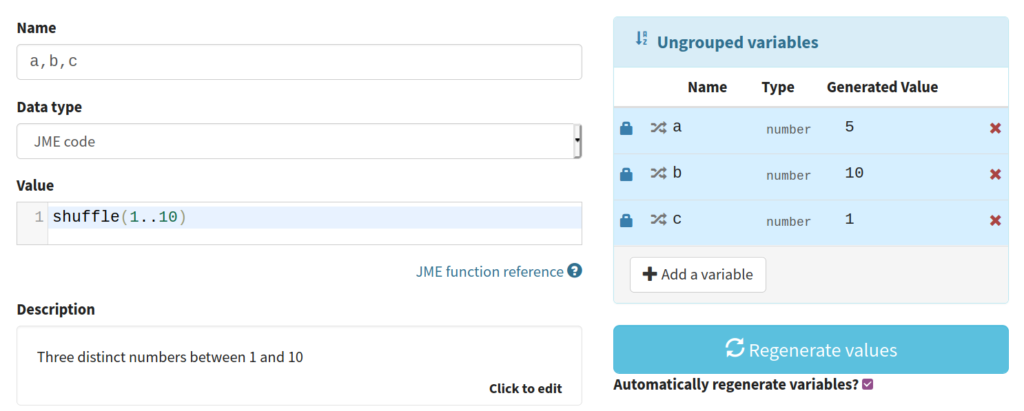 Bugfix: The scientificnumberlatex function marks its output as "safe", so the curly braces around the exponent don't get interpreted as variable substitution. (code)
Bugfix: Expressions with a complex number on the left-hand side, such as i*x, don't omit the multiplication symbol. (code)
JavaScript:
Extensions
Outstanding issues
There are 93 open issues on GitHub, 18 of which were added after v5.0 was released.
Numbas editor
Enhancements

There's now a "long plain text string" definition template for variables. This makes it easier to store strings that span multiple lines. I'm always keen to add new templates for the variable editor. (issue)
The editor now uses Django 3.1 and other Python dependencies are up to date. (code)
Bug fixes
Outstanding issues
There are 42 open issues on GitHub, 6 of which were opened after v5.0 was released.
Numbas LTI provider
We released version 2.7 of the LTI provider. It adds a global dashboard view, an option to only show completed attempts when viewing the statistics for a resource, client-side completion receipt codes for attempts, and some bug fixes around time zone handling, sending email receipts on attempt completion, cross-site security and text formatting.
There are 32 open issues on GitHub, one of which was opened after v5.0 was released.
Documentation
---
That's it for now. See you in October!