Here's another update on Numbas development, covering February and March, 2021.
I've mainly been spending time on developing new features for Numbas v6 lately, so the published versions have mainly just had bugfixes, but there are a couple of new things.
Notable changes include the ability for students to choose their own colours in the default theme, and some new marking methods for "choose several from a list" and "match choices with answers" parts.
New "Getting Started" exam
I had a look at our old "Getting Started" exam, which is supposed to show students how Numbas works and how to enter their answers. I don't think it had been changes since it was written nearly a decade ago, so it was time for a rewrite!
I started from scratch so I could best make use of newer Numbas features like the menu navigation mode for exams, and explore mode questions.
I've published the new exam on the mathcentre editor. Please give it a go, and offer it to your own students if you think it would be helpful. Write a comment on the editor if you spot any problems, or have a suggestion on how it can be improved.
It's written under the assumption that students will access exams through the Numbas LTI tool, so some of the information about how data is saved is not accurate for exams delivered standalone or through a generic SCORM player.
A demo of how to extract data from a Numbas exam
Over the years, a few people have asked about getting data out of a Numbas test without running it inside a VLE or the LTI tool.
I've made a small demo showing how to embed a Numbas exam in a page, then in the parent page I've reused the SCORM API from the Numbas LTI tool to record data from the Numbas exam. The exam package has to be hosted on the same domain as the containing page, so it's not quite as simple as using the embed URL that the Numbas editor gives you.
The demo is at https://extract-data-from-numbas-exam.glitch.me/.
It doesn't save the data anywhere – that's something you'd have to set up yourself, either reusing the code from the LTI tool, or by writing your own.
Think carefully before attempting this: the LTI tool does a lot of stuff, like managing user accounts, handling connection problems and applying availability date restrictions, that you'd have to reimplement.
Numbas runtime
I've tagged v5.4 of the Numbas runtime on GitHub.
Enhancements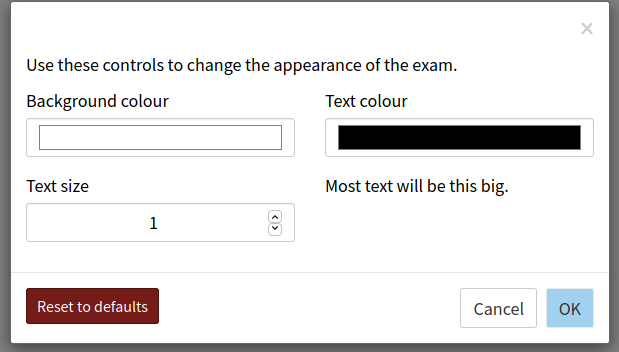 Changes
Bugfixes
The Indonesian translation is now complete. Thanks to everyone who contributed!
Numbas editor
I've tagged v5.4 of the Numbas editor on GitHub.
Enhancements
Changes
Bugfixes
Documentation
Numbas LTI provider
I've tagged v2.12 of the Numbas LTI provider on GitHub.
Enhancements
Changes
Bugfixes