I'm very proud to announce the release of Numbas 2.0, which features a completely rewritten editing interface and a reorganised item database.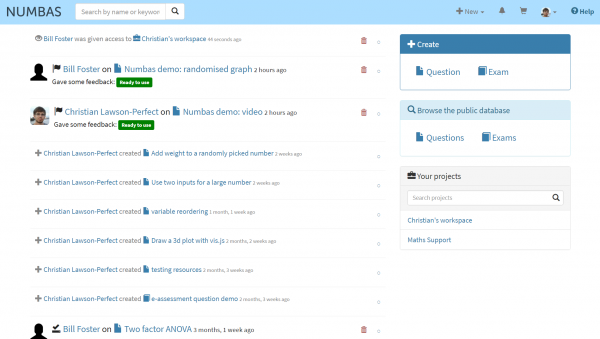 We've added some very helpful new features, and changed the way the database is organised to make working in groups much easier. All exams and questions in the editor database are now organised into projects, which provide a simple way of collecting together material relating to a particular course or activity in one place.
Projects allow you to automatically grant editing rights to a group of collaborators, keep track of changes that have been made to your content, and filter out irrelevant material. Project-level comments make it easier to coordinate writing, testing, and deployment of questions and exams with your team members.
We've rebuilt the editing interface from the ground up, to make it cleaner and easier to use. Read the rest